Vrinda Jariwala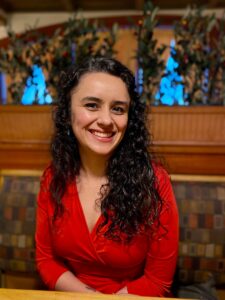 Conserving ruined Masonry: managing water regimes to enhance resilience in the face of changing environmental conditions
Vrinda's research focuses on conservation strategies to protect ruins. Unroofed historic structures such as buildings and archaeological sites are more vulnerable to changing climatic conditions. This study would include conservation interventions such as hard capping and pointing as probable solutions to increase climate resilience by managing moisture movement (ingress and egress) in the masonry systems.
Funding through AHRC CDP
Website: https://www.ahrc-cdp.org
---
Louise Formby-Tiedman
Louise Formby-Tiedman is a part-time DPhil candidate in archaeology.  Her research focuses on archaeological landscape approaches to heritage threatened by mineral natural resources and the subsequent threat from the extractive industries.  The overarching research objective is to develop a method of transferability for non-state citizens working in areas where ground surveying methods are non-permissible.  For this reason, the case study area is Afghanistan using remote sensing and GIS methods and techniques to map and identify the characterization of archaeological landscape features situated within identified areas of natural resources.
---
Tim Baxter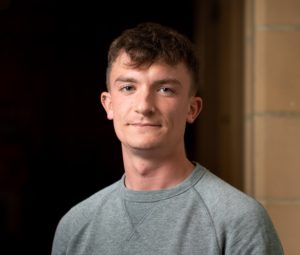 Biodiversity and bioprotection of historic maritime structures: a possible win-win?
My project focuses on developing an understanding of the biodiversity value of historic maritime infrastructure such as harbour walls, fortifications and breakwaters. At the same time, it aims to identify protective functions of the species and communities that these structures support using a combination of desk-based research and experiments in the field and the laboratory, including field block exposure trials.
This project is undertaken through SEAHA CDT.
---
Sam Woor
Cultural Landscapes of the Past: Reconstructing Prehistoric Environmental Change in South-East Arabia
Sam's research focuses on the Late Pleistocene and Holocene hydrological changes in southeast Arabia. Evidence suggests that the Indian Ocean Monsoon (IOM) system has shifted in its latitudinal position with the cycle of orbital precession (roughly every 23,000 years). These palaeoenvironmental dynamics had profound implications for early Homo sapiens, with changing water resources contributing to demographic shifts over the last few hundred thousand years. His work shall be focusing on the sensitivity of a fluvial drainage network in Oman to these climate shifts in terms of the timings and extent of environmental change which resulted. This aims to move beyond ideas of broadly homogenous environmental change within the Arabian Peninsula, and low latitude desert environments more generally, throughout the Late Quaternary by investigating how different parts of the system responded to orbital climate forcing.
He will employ a multi-proxy approach to understanding past environmental changes, utilising the Oxford Luminescence Dating (OLD) Laboratory to construct optically stimulated luminescence (OSL) chronologies for sedimentary deposits throughout the drainage system. His project will also have components of remote sensing analysis, in particular using hyperspectral analysis to attempt to map and identify palaeochannel deposits in order to define palaeohydrological systems in the region.
The deserts of the Arabian Peninsula are a region of significant geo-heritage value for understanding the interplay between the environment and our prehistoric ancestors. More broadly, Sam aims to highlight the value of Quaternary geoheritage and the threats posed to its preservation through human activity. The project will explore the merits of interdisciplinary work cross-cutting both palaeoenvironmental and heritage science.
This project is undertaken through SEAHA CDT.
---
Kathryn Royce
Mineral Instability within the Museum Environment
Approximately 10% of the 4,400 identified mineral species are susceptible to average indoor conditions found within museum stores and displays. Some can be damaged by light, whilst others are affected by changes in temperature and humidity. The most notable example is pyrite. Museum professionals have lamented over pyrite deterioration for hundreds of years due to its key role in the destruction of innumerable fossil and mineral specimens.
Undesirable outcomes from mineral deterioration can include loss of specimens, information, and use. In order to prevent such losses, research into mineral stability is necessary to determine and provide ideal storage and display conditions. While such research may have been performed in other sectors, little has crossed over into museum literature.
This research will analytically review the stability parameters – both from literature and experimentally – of the most susceptible minerals commonly found in museum collections. Defining and identifying early stages of damage will also be determined. Combined, these will ultimately produce useful guidance on the preservation and care of mineral collections for their owners and caretakers.
This project is undertaken through SEAHA CDT in collaboration with National Museum Wales Cardiff, OR3D Ltd., and BSRIA Ltd.
---
Dáire Browne
Breathing stones – Developing laser spectroscopic methods to study moisture uptake and release by historic limestone in polluted urban environments
Many important heritage buildings, monuments and sculptures in cities are constructed of limestone which is prone to deteriorate in polluted atmospheric conditions. Understanding moisture relations at the surface of limestone is fundamental both to understanding the reactions involved in limestone deterioration and to judging the success of conservation treatments. This project aims at addressing the lack of high resolution, near-surface methods to monitor the movements of pollutant gases and water vapour into and out of stone surfaces and identify how they are affected by conservation treatments.
Dáire's project is undertaken in partnership with the Department of Chemistry, University of Oxford, University of Oxford Estate Services and Michell Instruments through SEAHA CDT.
---
Former students
Dr Blen Taye Gemeda (2022) DPhil thesis "A holistic approach to diagnose deterioration of rock-cut structures in Lalibela, Ethiopia"
Dr Richard Grove (2021) DPhil thesis "A holistic approach to evaluating the performance of consolidants on sandstone"
Dr Yinghong Wang (2021) DPhil thesis "Deterioration and conservation of sandstone grottoes in Northwestern China"
Dr Katherine Jang (2020) DPhil thesis "Moss on Rocks: Evaluating biodeterioration and bioprotection of bryophytic growth on stone masonry"
Dr Martin Michette (2020) DPhil thesis "Developing preventative conservation strategies for problem stones: Reigate Stone at the Tower of London"
Dr Jenny Richards (2020) – DPhil thesis "Learning from nature: evaluating site-based conservation approaches to mitigating climatic risks to earthen heritage sites in N W China"
Dr Michelle Lanzoni (2020) – DPhil thesis "Rain Events and Recharge Processes in the San Luis Valley of Southern Colorado"
Dr Lucie Fusade (2019) – DPhil thesis "Mitigating driving rain to historic buildings: the use of additives in lime-based pointing mortar
Dr Scott Allan Orr (2018) – DPhil thesis "Wet walls: developing 4D moisture monitoring techniques for stone masonry
Dr Katrin Wilhelm (2016) – DPhil thesis "Improving non-destructive techniques for stone weathering research in situ"
Dr Cristina Cabello-Briones (2016) – DPhil thesis "The effects of open shelters on the preservation of limestone remains at archaeological sites"
Dr Samin Ahmad (2015) – DPhil thesis "What controls algal greening of sandstone heritage? An experimental approach"
Dr Shuaishuai He (2014) – DPhil thesis "Developing relations between heritage conservation and urban revitalization: lessons from China"
Dr Jennifer Booth (2013) – DPhil thesis "Back to nature: geologically informed consolidants for stone museum artefacts"

Noreen Zaman – The role of soil as a method for conserving cultural stone ruins: effects of physical and chemical characteristics on stone weathering
Dr Lisa Mol (2011) – DPhil thesis "Sandstone weathering, Electrical Resistivity Tomography, and the deterioration of San Rock Art in the Golden Gate Highlands National Park, South Africa"
Dr Dominique Chaput  (2011) – DPhil thesis "Structure, diversity and metabolic profile of lithobiontic communities inhabiting exposed Arctic granite: a molecular microbial ecology approach"
Chris Wood (2010) – MSc by Research thesis "Understanding and controlling the movement of moisture through solid stone masonry caused by driving rain"
Dr Satish Pandey (2010) – DPhil thesis "Dynamics of the transport, distribution and crystallisation of soluble salts in sandstone: implications for salt weathering in historic buildings"
Dr Abigail Stone (2009) – DPhil thesis "Multi-proxy reconstruction of late Quaternary climate dynamics in western Southern Africa."
Dr Bethany Ehlmann (2007) – DPhil thesis "Developing quantitative techniques for evaluating rock breakdown morphology: a case study of basalt boulders in the channelled scablands, Washington, USA"