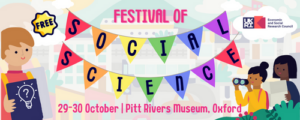 Lab-In-Your-Pocket features at the Festival of Social Sciences October 2022
Can smartphones be more than a toy and device of distraction? Researchers at the School of Geography and the Environment have successfully used smartphones as Lab-In-Your-Pocket for research and teaching. We will be facilitating hands-on activities which will unlock the underused potential of smartphones involving pocket microscopes as well as collaboration with a machine learning app to diversify and explore your environment.
Suitable for everyone. This is a drop-in activity with elements of self-guiding – just turn up.
The event will be run by Dr Katrin Wilhelm, Dr Sterling Mackinnon, School of Geography and Environment, Website
---